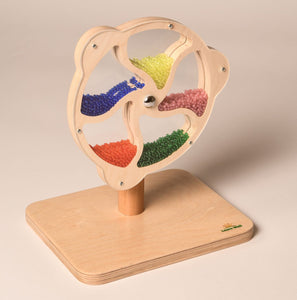 Babies and toddlers will be curious and enjoy exploring what happens when you turn the wheel slowly; the gentle rain-like sound made by the beads will soothe. And what happens when you turn the wheel fast; the clitter-clatter of the beads will mesmerize and delight. Because the beads are florescent, there is another level of discovery when you turn off the lights and see them sparkle and shine. Hand-made from beautiful beech wood, the Rotating Bead Wheel will delight children in your setting for years. Suitable for birth upwards.

• Watch with delight as the sparkling beads move and listen to the swooshing clitter-clatter sound.
• Helps develop hand-eye coordination
• Explore the magical bright light of the fluorescent beads in a dark space. 

Due to current world events, please allow 4-6 weeks for delivery.