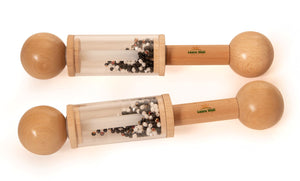 Multi-sensory resource that will engage and delight even the youngest of children
• The visual contrast between the black and white beads will help to stimulate babies' vision.
• Watch and listen as the beads tumble and rattle when you shake or roll along the floor
• Hand-made from beautiful beech wood this resource is a must for every setting.
Babies and toddlers will take delight in these Black and White Mini Rattle Rollers. Watch the black and white beads tumbling around and listen intently to the rain like sound of the beads brushing against each other. Encourages eye tracking, hand-eye coordination and gross motor skill development.
Allow 4-6 weeks for delivery
Due to current world events, please allow 4-6 weeks for delivery.