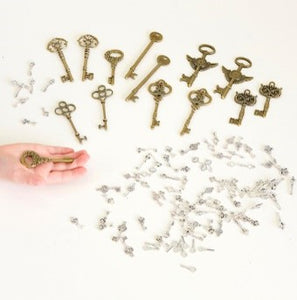 This eclectic assortment of keys, varying in size, shape and detail can be used as a catalyst for conversation.
Encourage observation skills as well as comparing and contrasting. This set has downloadable ideas cards that illustrate how to provoke mathematical literacy and enrich language opportunities. With thanks to Alice Sharp for this lovely idea.
Carefully observe and consider the patterns, shapes, sizes, and details, creating opportunities to classify and sort. Who does the key belong to? Where will it lead you? Transform conversations, enliven with a lexicon of language and let imagination soar with this intriguing treasure trove of curious keys.
Product Content: 114 keys and downloadable, practical teaching notes
Pack size: 114
Material: Metal
Brand: TTS
Age Range: Suitable for age 3 years and up
Due to current world events, please allow 4-6 weeks for delivery.