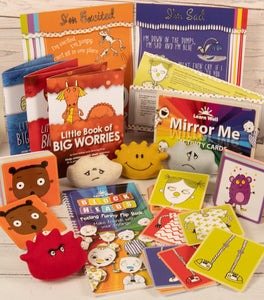 Emotional wellbeing is where it all begins and this new kit has been created by experts to help children recognize, embrace and understand their emotions and the impact they have on themselves and others. Through games, stories, drama activities, art, and with practitioner's notes explaining the theory behind it, the resources included in this kit offer a range of strategies for you to help children flourish.

 The resources in the kit focus on eight emotions : anxiety, sadness, anger, happiness, jealousy, fear, calmness and excitement. 
Exploring Emotions Kit includes: Little Books of Sadness, Worries and Anger, Bag of Buddies, Mirror Me Activity Cards, Moji Monsters Game, Feeling Snappy Game, Feeling Funny Flip Book, Block Heads Cards and Activities, Poems with Feelings. Due to current world events, please allow 4-6 weeks for delivery.