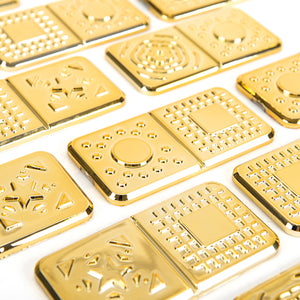 Match the patterns on these beautiful, intricate tiles, creating a golden, sparkly line.
The versatile pieces can be played with two children or used independently to develop matching and sorting skills.
The children can develop their early maths and literacy skills as they have to really examine the dominoes carefully to differentiate the different patterns. The tiles have raised patterns with shapes in the centre. Encourage turn taking as they play the game. They can be used for free play or as part of a treasure basket collection.
Features
Pack size:

15

Material:

ABS

Height:

5 cm

Length:

10 cm

Depth:

5 mm

Age Range:

Suitable for age 10 months and up
Due to current world events, please allow 4-6 weeks for delivery.