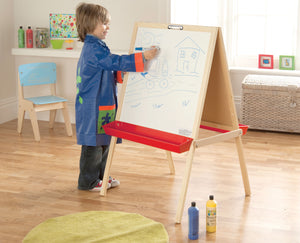 Specially designed to provide functional and efficient cloakroom storage, our Welcome Furniture creates an inviting and welcoming environment for children and parents alike.
Made in the UK from scratch resistant maple melamine with solid beech features which are durable, hard-wearing and easy to clean. 10 year guarantee. Set of two units.
Features:
• Coat hooks
• Easy access clear pockets for name/picture
• Bottom bench for bags, boots, etc. (use with or without tubs)
Contains: Wall mountable unit with 8 coat hooks plus bottom storage bench
Due to recent world events, please allow 4-6 weeks for delivery.