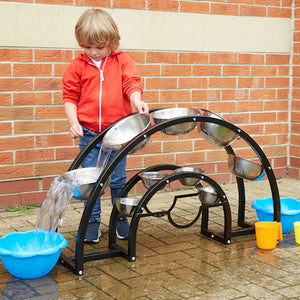 Water Bucket Cascade
An innovative way of engaging young children in tipping, pouring and filling water activities.
Fill the bowls and tip from one to another. Balance the bowl, slowly tip and transfer the water along and cascade down into a tray below. Why not place guttering in the lower brackets, and create a water race. Accessories not included.
Children will enjoying filling and pouring water into the bowls, or spilling and splashing the contents from one bowl to the next. Can you tip the water slowly so that it doesn't spill? This unit encourages exploration, discovery and experimentation.
Easy to assemble, just click the frames into place and screw in the bowls.
Features
Material:

Powder Coated Metal

Height:

60 cm

Length:

100 cm

Width:

28 cm

Assembly type:

Self-Assembly

Brand:

TTS

Suitable for outdoor storage:

Yes

Age Range:

Suitable from birth
Due to current world events, please allow 4-6 weeks for delivery.